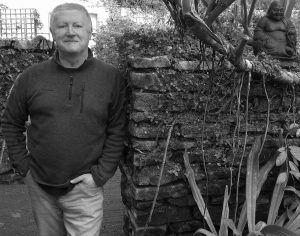 I was born in Warrington, Lancashire, England which later became part of Cheshire in the mid-1970s.
I have been writing and telling stories for as long as I can remember, and I'm sure I used to annoy my family with all my wild and wacky ideas that used to run through my head and end up on paper.
However, there was one story that I do recall making my father put down his newspaper and listen to. It was about a family of rabbits, Smudge, Fudge, Judge and Sludge, who formed a pop group, The Hoppers, and conquered the world. Their Manager was Warren Hole and were always No.1 in the Bobtail Charts.
My father came into his own when I was at primary school. My English teacher (who will remain nameless) put on my end of year report that my imagination was over-active and needed to curb my ideas if I was to succeed. That was a red rag to a bull for my father who insisted on meeting the teacher to put her right.
It obviously had the desired effect. The following year, the said English teacher set up a school story writing competition.  My story of The Hoppers rockers won, and I was given a certificate which I still have to this day.
As I was growing up, I knew I wanted to be a writer, although being an RAF Fighter pilot was a very close second. However, my exam results put paid to any chance of taking to the skies as I was totally inept at the subjects required.
University beckoned and was ready to leave home and study for my degree at Liverpool John Moore's University when I saw an advertisement for a job as a trainee reporter.
I wrote an application, went for an interview and got the job, much to my parent's surprise as I had not told them anything about it.
That was the start of an amazing, interesting and rewarding career in journalism that very quickly took me Fleet Street and national newspapers and latterly the Editor-in-Chief's chair for a group of daily and weekly newspapers.
I have been lucky in meeting the most interesting of people, celebrities, Royalty and worked on some fabulous stories.
However, throughout my journalistic career I always yearned to get back to my story telling.
Now many years after winning my school story writing competition I have put my first book out there for you all to read.
Finding Elenore, a romantic drama is out now in paperback and ebook. As with all my books it is loosely based on true-life events. I hope you enjoy reading it. I am currently writing my second novel. If you would like to keep up to date with its developments then please subscribe here.